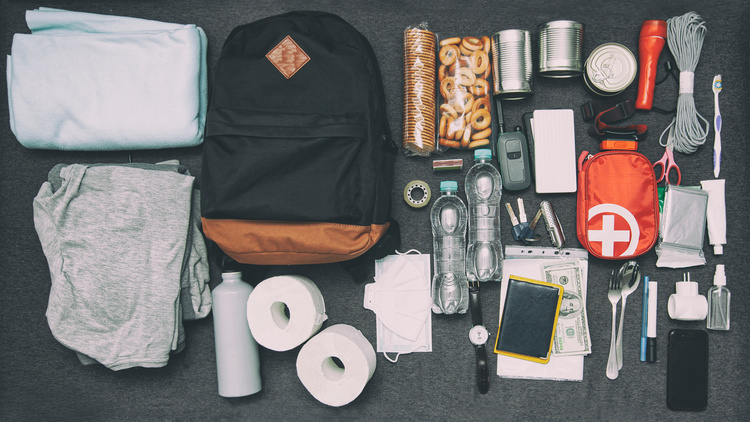 Florida is undeniably a beautiful state to live in, but with that beauty comes a tradeoff: dealing with hurricanes and tropical storms. The best way to keep yourself and your family safe is to have a predefined emergency plan and a supply kit ready to go. Here's a list of supplies needed to get your emergency supply kit started!
Supplies to Include in Your Emergency Supply Kit:
Food & Water

One gallon of water per person per day, for at least 3 days (consider drinking & sanitation)
Nonperishable food supply for at least 3 days + a non-electric can opener for any canned goods
Cups, dishes, utensils, & napkins
General Supplies
Hand crank or battery powered radio (and extra batteries)
Flashlight (and extra batteries)
Cell phone with charger and inverter
Sleeping bags and blankets
Cash/coins
Games, puzzles, books, and other activities (especially for children)
First Aid
Bandages, gauze pads, and adhesive tape
Petroleum jelly/antibiotic ointment
Medications (prescription & OTC)

Include information about name and dosage of medicines & how to administer them

Moist towelettes/baby wipes
Soap & hand sanitizer
Disposable gloves
Sunscreen
Cotton balls & swabs
Tweezers, scissors, sewing needles, and safety pins
Important Documents - Keep in sealed bag or waterproof container
List of important phone numbers, including:

Friends/Family - local & out-of-town
Local Emergency Management Services
Doctors/veterinarians
Banks & schools

Insurance cards
Medical records & prescription information
Copies of social security cards, birth/marriage certificates, and other personal documents
Banking information & credit card numbers
List of required medical devices (include style, serial number, and manufacturer information)
Pet Care

Pet food, water, medications, and dishes
Medical records, microchip information, and proper identification
Carriers/cages and leashes
Vehicle
Ensure your gas tank is filled with gasoline before the storm
Jumper cables & tire repair kit
Specialty Items
Rain gear: jackets, hats, umbrellas, & rain boots
Formula, bottles, diapers, and other infant supplies (if needed)
Any items needed for elderly or disabled family members
With hurricane season on its way, it is important to make sure your family is prepared for whatever Mother Nature may bring! By building your emergency supply kit ahead of time, you can avoid the stress of scrambling supplies together moments before a storm. Find more tips on what and how to prepare here and be sure to contact us with any questions!