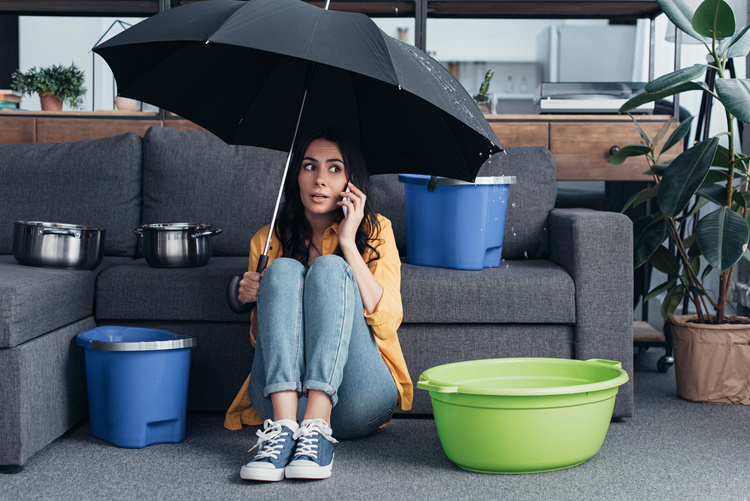 The typical Homeowners policy (HO3 – Special Form) covers all risks of direct physical loss to your home, including water damage - but with significant exclusions and limitations. The types of water damage likely to be excluded under a homeowners policy include damage caused by flood, surface water, waves, tidal water (whether or not driven by wind), water back up and water/water-borne material below surface of ground (regardless of its source). Some types of water damage excluded by a homeowners policy can be insured by purchasing an endorsement, while others cannot be covered at all or can only be covered through a separate policy. Understanding which losses are covered and which are not will help you take the necessary precautions to avoid uninsured losses caused by water damage.
Where the water originated ultimately determines whether a loss may be covered or not. Nearly all Homeowners policies exclude or restrict water damage caused by the backup of sewers or drains, although provisions may vary from company to company. This exclusion is regarding "overflows" of water from sewers (i.e. out of toilet bowls) and "backups" from drains (like floor drains and sinks). The source of the water or sewage may be "off premise" from a plugged public sewer system, or caused by water inside the home that is left on or stuck on which overwhelms a drain system that is plugged/restricted. Most of the time, coverage for sewer or drain water backup can be added by endorsement for a small additional premium.
It is also important to remember that it is the damage to your home resulting from a covered water loss; not the repair to the actual item that failed. Your homeowner policy may pay for the necessary costs to access and repair the damage caused by the covered water loss (minus the deductible).
Under your policy contract, it is the responsibility and obligation of the homeowner to report the claim promptly to the Insurance Company and to take the steps to mitigate your damages. Some insurance carriers have a 14-day water exclusion (whether hidden or not). Keep all receipts and take pictures of the damages for documentation. The quicker you report the loss to your Insurance Carrier, the sooner they can advise you of what steps need to be taken to avoid further damage to your home.
There are steps you can take to pre-emptively protect your home from future water damage. Inspect your home regularly for signs of moisture. Check hot water heaters, the garbage disposal, A/C drain lines, pipes under cabinets, indoor and outdoor faucets, appliance hoses, showers, tubs, toilets and sinks regularly for any sign of deterioration. Keep your roof free from debris, trim back tree branches, keep rain gutters and downspouts clear, and make sure they carry water away from your home. Turn your water off before traveling or have a trusted friend or relative check the inside and outside of your home periodically while you are away. The damage caused by water can be devastating, expensive and unexpected! It is important to be proactive to prevent damage to your home.
Feel free to contact us at Wren Insurance Agency to review your home insurance policy and coverages to make sure you're protected.