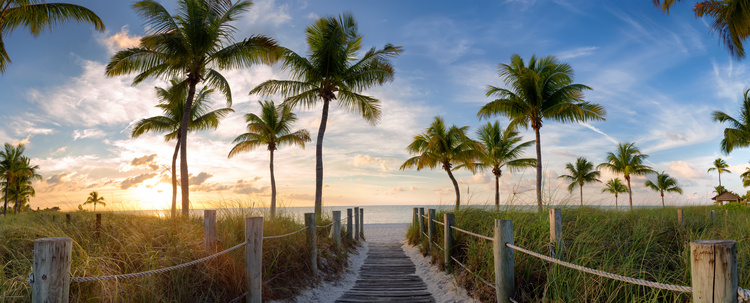 National Beach Day is coming up on August 30th, so we asked some of our team members what their favorite beach is and why. Who knows – you might even run into us there someday! 🌞
Amanda - Paradise Beach Park in Melbourne, FL!

Bekah – Black Sands Beach in CA – it's very different from our FL beaches, with the black sand and giant rocks to climb. Not for swimming, but neat to see!
Brittany – Tybee Island Beach in GA. It's not the fanciest or prettiest beach out there, but it holds the most memories. My family used to go every year with my grandparents, uncle, aunt, cousins, parents, my sister, and myself. My grandma and I would walk up and down the boardwalk, meet up with my grandpa and cousins at the pier to fish, and go out late at night to go 'crabbing' and catch crabs to use as bait the next morning. My grandpa hasn't been with us for the last six years, so that beach, and the memories, mean so much to me.
Dennisse – La Guancha in Puerto Rico. I would go there every time I visited my family. There's a small beach with a boardwalk that has a bunch of booths that make fresh Puerto Rican food, and a shore to feed fish! There's also a tower there that can get super windy at the top. I love it because it reminds me of back home in Puerto Rico, and it's also where my mother met my father for the first time, so it holds a special place in my heart.
Hannah – I have two favorites: Avila Beach, CA – I grew up going there almost every summer with my grandparents, dad, and cousins, and Canova Beach Park, FL – it's dog friendly and I love taking my puppy here!
Jessica – Our favorite is Indialantic to South Melbourne Beach because the sand is so beautiful, not a lot of rocks, and tons of seashells to find!
Kirk – My favorite beach is Spessard Holland South in Melbourne Beach, FL – it's not too far and it usually isn't too crowded!
Marshall – None: I don't like sand 😂
Michele – Captiva Beach in Captiva, FL is my favorite beach. It's secluded, serene, and the shell-picking and sunsets there are AMAZING!
Nikki – My favorite beach I've ever been to was in Freeport, Bahamas because the water was clear, and the sand was so soft!