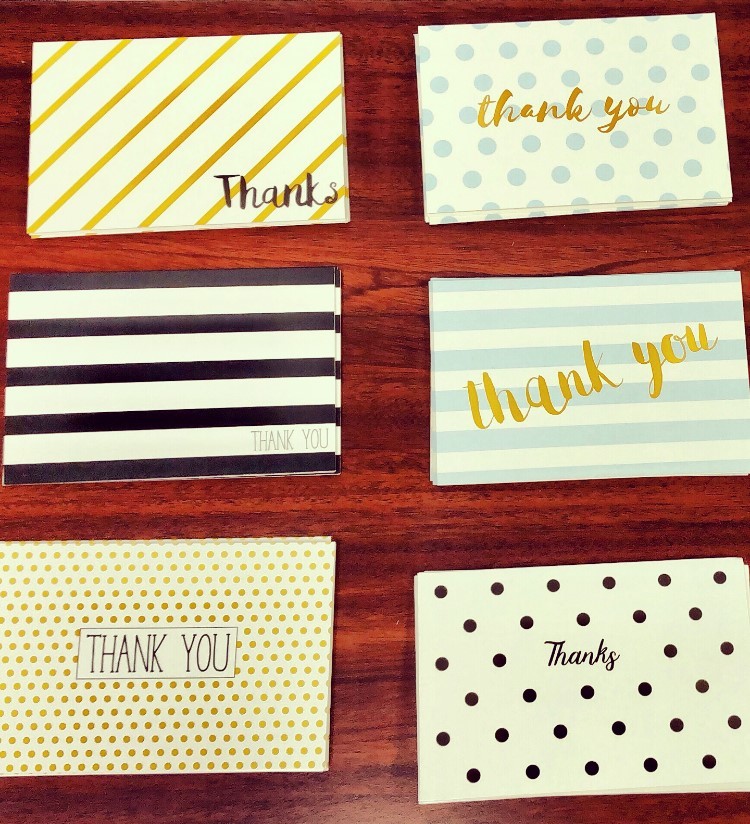 Whether you are a small business, large corporation, or anything in between, employees are always something worth appreciating! Since we work with both individuals, as well as businesses, we thought that sharing some employee appreciation ideas would be a good idea! Here are some great ways to celebrate the people who keep your business going:
Swag Em' Up!

Company gear is usually something that most employees are used to handing out to customers, patients, or clients, rather than keeping for themselves. To celebrate how much you appreciate not only your clients but also your employees, order them something unique to your team! Whether it is as simple as a mouse pad or other desk decoration, or as nice as an embroidered jacket with your company logo, giving your employees something special can make them feel appreciated, and more like a team.

Treat Yo' Employees (and self)

You cannot provide good work if you don't have good snacks - this is obviously common sense, right? So why not treat your employees to some good food! The awesome thing about showing appreciation with food is that there are so many ways to do it, and all of them will work! One way is to take the whole office out to lunch, or have lunch catered in. Another is to stock your office with an overload of snacks (this will go over very well, trust us). Another way is to do something special like an ice cream sundae bar, a pizza party, or treat everyone to their favorite candy – let's be real, you can't really go wrong with this one.

A+++ for Effort

Okay this one might take a little bit more effort…but it will totally be worth it! Gift baskets are something that always make an impact and truly show that you care. Whether you have 5 employees or 50 employees, gift baskets are something that you can cater to your employees and your company. For smaller businesses, consider personalizing each gift basket for each employee. If you have a coffee lover, create a coffee themed basket! If you have a munchie, create a snack basket! If you have an employee who is also a student, create a school supply basket! If you have an employee who has young kids, create a mom/dad basket! Use what you know about each person and create something FOR them. If you have a larger business, then consider ordering corporate gift baskets such as Starbucks, Ghirardelli, or a wine and cheese basket. No matter what theme you choose, gift baskets convey a sense of deep care and thought.

Happy Shopping!

Although time intensive gifts are thoughtful, they might not be practical for every business owner or manager. If this is the case, no worries! A great, practical way to show your appreciation is to give your employees gift cards. They are a simple, but effective way to remind your employees that you care, and that they are a valued part of your organization. Whether it's to your local coffee shop, a grocery store, or the always available Amazon, gift cards are a simple way to make sure your employees have a good day.

Cooler Than Nametags…

Another great way to show your employees that you care is to get personalized items with your employees' names on them. There are so many different online companies that provide personalized items such as coffee mugs, notebooks, or even name plates for people's desks or offices. Another way to do this is to check out your local chamber of commerce in order to locate local manufacturers or product creators who could print, embroider, and customize products for you – Team Wren is in three different chambers, making it easy to find the best of the best in our area 😊

Give Em' a Break!

Employee Appreciation Day is the perfect time to give your employees some special privileges. Some ideas could include ending the day early, giving a mid-morning break, starting the office day late, or even relaxing the dress code for a day. These are all easy ways to show employees just an extra bit of appreciation for all that they do.
As you can see, appreciation can be shown in a multitude of ways. Whether it's a large gesture or a small token of gratitude, celebrating the people who work so hard for your company is never the wrong thing to do. And hey, who says employee appreciation can only be celebrated on one day right? 😉